Zainab Collection
The Perfect Elixir formulated with Roses, Gold, Revolutionary Stem Cells and Herbal extracts all designed to Repair, Regenerate and Rejuvenate the Skin. Hydrate Vitalise Soothe Nourish Brighten Renew Uplift tone Moisturise Made in Kashmir
Read More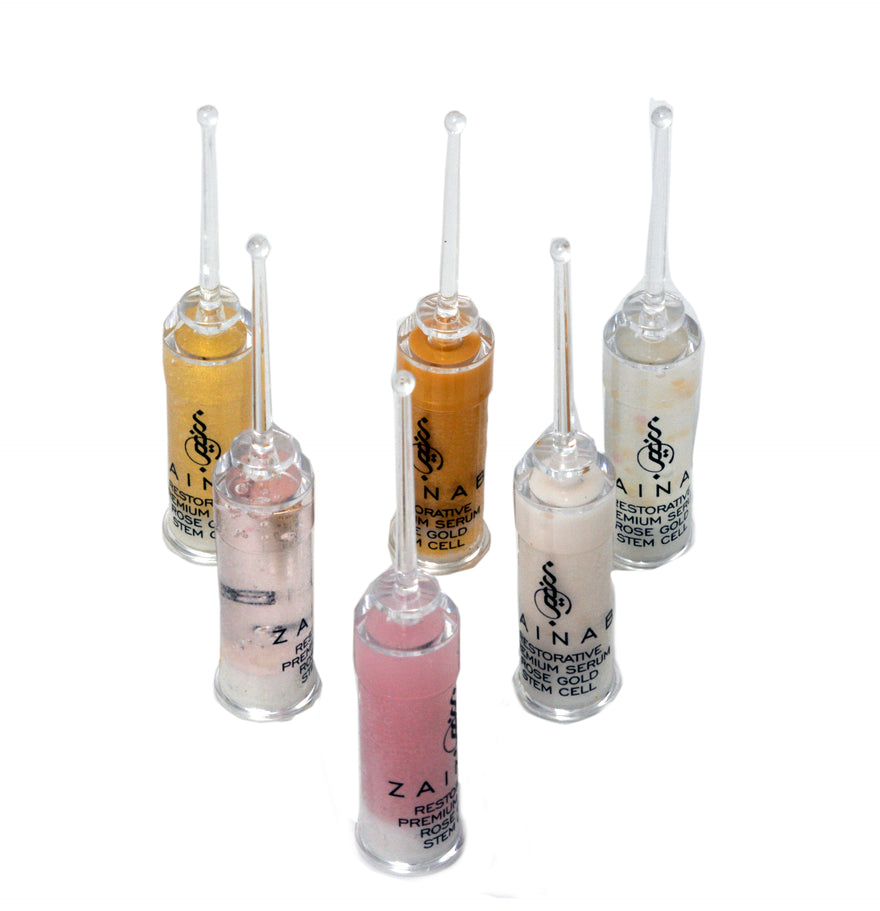 The Perfect Elixir formulated with Roses, Gold, Revolutionary Stem Cells and Herbal extracts all designed to Repair, Regenerate and Rejuvenate the Skin. Hydrate Vitalise Soothe Nourish Brighten Renew Uplift tone Moisturise Made in Kashmir
Read More
The Perfect Elixir formulated with Roses, Gold, Revolutionary Stem Cells and Herbal extracts all designed to Repair, Regenerate and Rejuvenate the Skin.
Hydrate

Vitalise
Soothe
Nourish
Brighten
Renew
Uplift
tone
Moisturise
Made in Kashmir
SHIPPING AND DELIVERY
Purchases are shipped from our warehouse in Srinagar by reputed courier agencies. Please allow following number of days from receipt of your order.
For India orders

 – All domestic orders are processed within 2 business day. You can expect delivery of the order within 3-7 business day. For locations which are in the interiors or in difficult coverage area, this may take between 10-12 working days

For International orders

 – All international orders kindly fill this form.

ORDER DELIVERIES WILL BE MADE BETWEEN 

10:00 AM – 6:00 PM Monday – Saturday. Excluding public holidays

Goods will need to be signed for upon delivery. If you cannot be there to sign for your delivery please suggest an alternative i.e. a family member, colleague, neighbour, etc. However Zahara Skincare takes no responsibility for goods signed by an alternative person

Zahara Skincare is not responsible for damage after delivery.

For any complaints with regards to your order please contact Customer Care within 7 business days of your order delivery for resolution.
SHIPPING CHARGES
RETURNS AND REFUNDS
At Zahara Skincare, we strive to give you the very best shopping experience possible. However, considering that opened or damaged products cannot be reused, we cannot accept exchange or return of opened or used products once sold or delivered.
Zahara Skincare is not responsible for any damage caused after delivery

In case of any problem or quality issue with the product, we exchange the product or give you store credit. All you need to do fill this form and we will get in touch with you

Exchange of products will be accepted only if the products are returned in a saleable condition with the original receipt/tags intact and in their original packaging, in an undamaged condition and subject to following terms-

Returns and exchanges requests will be subject to checking and vetting by Zahara Skincare.

Damages due to neglect, improper usage or wrong application will not be covered under this Policy.

Once your return/refunds request has been accepted, the process will be completed within 7-21 business days.

No Refund shall be made once goods are sold

Shipping charges incurred are non refundable
All products once purchased are non-refundable. In general, an item maybe eligible for return within 7 days from the date of Product Delivery if it fulfils any of the following conditions:
Sold in a physically damaged condition.

Has missing parts or accessories

Product packaging not opened, product not used.
Worldwide Copyright © Zahara Skincare Pvt. Ltd. (brand owners Zahara Skincare). All worldwide rights reserved.